About us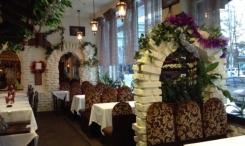 Russia, Krasnoyarsk,
Perenson St., 9
tel.: +7 (391) 212-07-28
"Balkan Grill" was founded in 1999.
People of Krasnoyarsk adore "Balkan Grill". The inhabitants of the Siberian capital have special feelings to this cozy Serbian cuisine restaurant, unusually deep feelings, one can hardly experience without visiting the place. Krasnoyarsk residents have family dinners here, bring here loved ones and friends, and celebrate here important events.
On entering the restaurant, visitors plunge into the enchanting atmosphere of Serbian hospitality. Jovan Bibich (the restaurant manager) always emphasizes that every customer is a dear guest. Therefore Jovan meets everybody personally, strikes up a friendly chat, and leads the guests to the table, preparing them for a pleasant pastime.
The restaurant beckons Siberian gourmets with enticing Balkan charm, that manifests itself not only in the menu, but also in the characteristic elements of Serbian architecture with white bricks, tiles, lanterns, plenty of greenery that make a pleasant and cozy atmosphere. One loses perception of time here. Subtle aromas of delicious dishes placidly take you away into the world of sparkling with vitality Serbian mountains.
You can scoop up Balkan energy and feel it inside you by trying traditional Serbian dishes and drinks. Delicious fragrances of smoked foods admired by Serbs excite imagination of even the most sophisticated gourmet as smoking technologies used in the restaurant "Balkan Grill" are original. The guests eat our prshuts, bacon and other meat delicacies with great relish.
But "Tatar steak" that is grilled and spiced in front of the visitors is generally recognized the most special appeal of the restaurant.
On special occasions chef Miodrag Stefanovic serves the guests an exclusive meat dainty with an exotic Serbian name "Shumadija Shpis". Poured up with "Hennessy", it flashes as soon as the chef enters the hall. A show like that is unforgettable. As unforgettable are the rich tastes of various Serbian dishes that are numerous on the "Balkan Grill" restaurant menu.
And when it comes to drinks, the legend comes to live as only in "Balkan Grill" one can try raki – "firewater" of Serbian kings. Warming Serbian self-made alcoholic drink strengthens your immune system in the Siberian frost. If you prefer wine, courteous waiters will offer you the choicest wines from the best vintages and grape varieties of the Balkan Peninsula.
In a word, you'll never want to leave the fabulous world of this beautiful place. The possibility to come back any time will serve you the only possible consolation, because our doors are always open to dear guests.